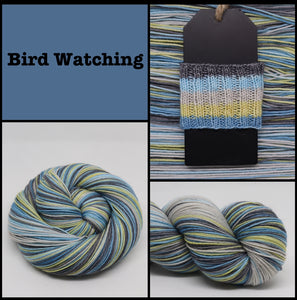 Bird Watching Self Striping Dyed to Order
 Bird Watching is something that my dad and grandpa used to love to do.  It's fun to see what different types of birds will come to your feeder.  This lovely and delicate striped yarn has 5 stripes; dark grey, baby blue, soft grey, light gold and medium blue. Dyed on my Barn Owl base (75% SW Merino, 25% Nylon) a plump 4 ply fingering weight yarn with 437yds/100g.
If you would like to If you would like a mini skein to accompany this special club colorway, please purchase a mini skein and leave me a note with your color choice. 
Ships in 3 business weeks