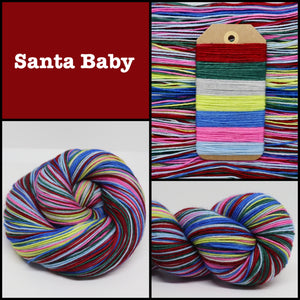 Santa Baby Self Striping Pre-Order
Every year I get excited to hear Christmas music and one song in particular inspired this fun new colorway.  Santa Baby is a seven stripe repeat beginning with Santa red, Christmas green, platinum mine, chartreuse Christmas list, blue yacht, awful good girl pink, 54' convertible light blue. 
Dyed on my Barn Owl Base (75% SW Merino, 25% Nylon) a plump 4 ply fingering weight yarn with great stitch definition.  Each skein has 437yds/100g.
If you would like to If you would like a mini skein to accompany this special club colorway, please purchase a mini skein and leave me a note with your color choice. 
Ships in 1-3 business weeks