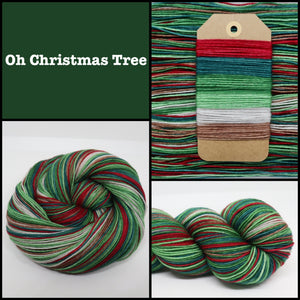 Oh Christmas Tree Self Striping Pre-Order
I love Christmas and decorating the Christmas Tree every year.  I created this beautiful colorway in honor of my favorite holiday.  This is a even six stripe repeat beginning with Christmas red, evergreen, medium green, light green, taupe and tree trunk brown.  Dyed on my Barn Owl base (75% SW Merino, 25% Nylon) a plump 4 ply fingering weight yearn.  Each skein has 437yds/100g.  
If you would like to If you would like a mini skein to accompany this special club colorway, please purchase a mini skein and leave me a note with your color choice. 
Ships in 1-3 business weeks